Have you thought about chiropractic care but keep putting it off because you are unsure of what to expect or are frightened by the prospect of the doctor violently 'cracking' your back or neck? Here's a brief explanation of a typical patient experience:

Chiropractic Examination (1st Visit)
As a new patient, you will be asked to complete a complete written health history using our office forms; these forms are available here on our website for your convenience in completing them at home. This includes listing any medications you are taking, including not only prescriptions but also over-the-counter medications and nutritional supplements. Dr. Ralph will review your health history, current complaints, and anything you can add to the picture of what your health challenges are. She will explain how chiropractic care may help or suggest what type of specialist may be able to help.
A thorough examination will be completed. This includes vital signs, orthopedic & neurological testing, an inspection by sight and feel of the area involved, hypermobility screening, and chiropractic evaluation. X-rays will be taken if they are clinically indicated to help complete the picture of your underlying challenges. This visit usually lasts between one hour and one-and-a-half hours (including the above consultation). Cost for the examination varies based on the complexity of your history and the testing and/or X-rays required to diagnose your condition.
An adjustment is typically provided on the first visit for a new patient. If not, it may be because Dr. Ralph does not want to risk any patient's health by adjusting before the clinical picture is complete and a complete diagnosis reached.
Report of Findings (2nd Visit)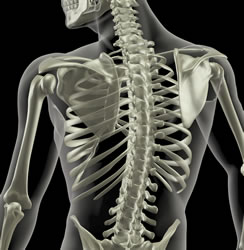 Your second visit will be scheduled. At this visit, you will likely be shown your X-rays as Dr. Ralph explains her findings and makes treatment recommendations. If chiropractic care is not indicated, she will advise you about possible next steps or more advance testing that you need and make a referral to another specialist. If chiropractic care is indicated, Dr. Ralph will explain what she anticipates will be required to get to the stated goals for your care and lay out a tentative treatment plan. The cost for this report is included in the cost for the examination.
If you choose to continue with chiropractic treatment, the adjustment and therapy is performed after the Report of Findings on the 2nd visit. This visit typically takes about 20 minutes (including the report of findings). These services are charged per our standard fee schedule.
Treatment Visits
During a course of care, an office visit includes your adjustment and any therapy or advice/recommendations that Dr. Ralph feels are in your best interest. Dr. Ralph prefers Activator Method, which is a gentle, low-force method chiropractic adjustment, so you needn't worry about a violent back or neck 'crack'.
When you are under the care of Dr. Ralph at Chiropractic Solutions, a typical visit takes less than 15 minutes. We schedule patients in anticipation of a flow that will not leave you waiting for more than about 10 minutes for Dr. Ralph to be available to treat you. There are times when more complicated cases require additional time, but we try to let you know that in advance and schedule for that extra time. If complications cause us to run late on the schedule, our front desk assistant is always aware of that and will let you know so that you can make decisions about your own schedule.
Re-Examination Visit
At regular intervals in a continued course of care, patients are scheduled for re-examination in addition to their chiropractic adjustment. This type of visit can also be triggered by new injury or symptoms. A re-exam visit is in many ways similar to a new patient exam, except that testing is focused on determining the progress made thus far. A re-exam is an excellent opportunity to investigate additional complaints and it provides you, the patient, and any third party payers (such as Medicare or Blue Cross.) evidence of the effectiveness of your chiropractic care. With the information from a re-examination, Dr. Ralph can sensibly & honestly advise you about your future treatment. Feedback about your re-exam findings is shared with you by Dr. Ralph at your next "regular" visit. These visits usually take about a half an hour. Cost for the re-examination is less than the new patient examination and it includes the cost of an adjustment.